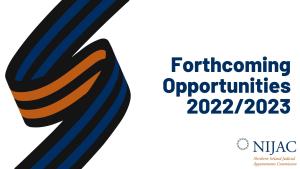 NIJAC is anticipating the following opportunities will be advertised during April 2022 - March 2023. 
- SENDT President
- Master of the High Court
- Review Tribunal Medical Member (Psychiatrist)
- County Court Judge x2
- ITFET Vice President
- CICAP Lay Adjudicator x2
- Deputy Statutory Officer x8
- NIVT Ordinary x3
- ITFET Employment Judge (Fee Paid) x8
Please visit our Forthcoming Opportunities section to find out more.
 Register for E-news to keep informed about all forthcoming Judicial vacancies.