The Northern Ireland Judicial Appointment Commission's (NIJAC's) selection processes are designed to enable NIJAC to select persons for judicial office on the basis of merit, having considered their eligibility, suitability and integrity.
Once an applicant has submitted their application the process of selection has five distinct phases, those being: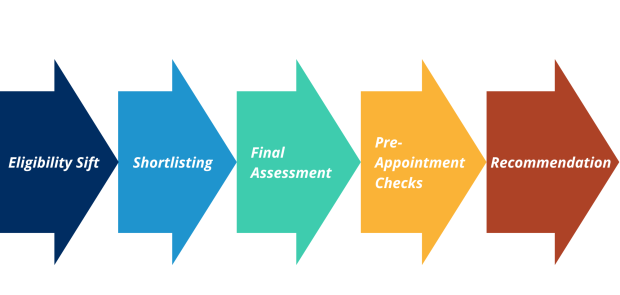 Eligibility
Once application forms are submitted they will be checked to ensure applicants meet the statutory eligibility criteria.
Further information on Eligibility criteria.
Shortlisting
After the closing date for applications and after all applicants eligibility has been checked the shortlisting stage will begin. This process will identify the applicants who will progress to the Final Assessment stage.
Further information on Shortlisting methods that may be used.
Final Assessment
Applicants who are successful following the shortlisting stage will be provided with an invitation to the final assessment. The invite will include details of the date, time and the format of the assessment.
The final assessment can take a number of formats and the methods used will be dependent on the role being recruited for.
Further information on the Final Assessment.
Pre-Appointment Checks
Following attendance at the final assessment stage, the most meritorious applicant(s) identified are subject to a series of pre-appointment checks prior to an offer of appointment.
This will include the following:
Fitness to Practice Check
A check will be made with the relevant professional body (e.g. The Bar of Northern Ireland, The Law Society of Norther Ireland, General Medical Council) regarding allegations or findings of misconduct.
A check with the Principle Private Secretary in the Lady Chief Justice's Office and/or relevant tribunal President to establish if there are any complaints under investigation, outstanding or upheld against her/him if a selected applicant is an existing judicial office holder. The Principle Private Secretary in the Lady Chief Justice's Office should be approached if the person concerned holds any court position, or is the most senior appointment in a tribunal, e.g.  President of Appeal Tribunals or ITFET.
Access NI Check
An Enhanced Level Criminal Record Check will be undertaken, including ID validation by a member of NIJAC staff.
Financial Probity Check
Including an HM Revenue & Customs (HMRC) check to determine if the applicant has any outstanding enforcement issues and a check with the Enforcement of Judgements Office to determine if there has been any civil judgements relating to the recovery of money, goods or property issued against you in the past 6 years.
An examination of Conflicts and Interests Declared
You will be asked to complete a Conflict of Interest questionnaire, which will be examined against information supplied on your application form and information received from other sources during the assessment and selection process.
A Conflict of Interest discussion will then be carried out by a member of NIJAC's staff. Any information you supply will be treated in the strictest confidence and may not debar you from appointment unless NIJAC considers that it renders you unsuitable for appointment. It is essential that you do not omit anything in your Conflict of Interest discussion which is, or could be, relevant.
Recommendation
Once the pre-appointment checks are completed the Selection Committee will submit a recommendation report to the appropriate authority. For NIJAC appointments this is NIJAC's Plenary and for Crown Appointments this is the Crown Office.
After the appointment has been approved a swearing-in ceremony will be arranged.
'How to Prepare' Video
NIJAC recognise that many potential applicants for judicial office will rarely, if ever, have applied for any other role in a similar manner and that understanding the process can be a particularly challenging hurdle to overcome. We hope that this video can provide you with the information you need to make the process easier to navigate.