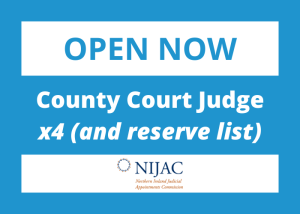 THIS SCHEME IS NOW CLOSED TO APPLICATIONS.
NIJAC is inviting applications for the office of County Court Judge.
It is intended to make four appointments and to maintain a reserve list for 12 months from the anticipated date of first appointment (5 December 2022).
This recruitment has been deemed as suitable for full-time or flexible working including part-time or block week working, for example one week on and one week off, or two weeks on and one week off. Applicants appointed on a flexible working arrangement may be required to adjust their working pattern on occasions when business need necessitates it.
The variety and richness of the role of the County Court Judge is difficult to capture. The formal description refers to three broad categories of work:
•         Criminal;
•         Family; and
•         Civil.
The vast majority of a County Court Judge's time is currently taken up in sitting in Crown Court trials. In addition, appeals are heard from the Magistrates' and Youth Courts, the latter involving sitting with Lay Magistrates.
Eligibility:
To be eligible for appointment as a County Court Judge a person must, by the anticipated date of appointment (5 December 2022), be either:
a member of the Bar of Northern Ireland of at least ten years' standing, or;
a solicitor of the Court of Judicature of Northern Ireland of at least ten years' standing
Salary: £154, 527 per annum. This post is pensionable.
Closing date: Wednesday 22 June 2022 at 12noon.
For further information and to apply online please click here
_________________________________________________________________________
Additional Resources
Watch the following videos on our YouTube channel:
Read the Nature of the Role document for further insight into the role of County Court Judge
Take a look at the Judicial Profiles section of our website where there is an opportunity to read four different accounts about the day to day realities of being a County Court Judge
Follow us on Twitter for further updates or connect with us on LinkedIn
Finally visit our Current Vacancies page to view all open recruitment schemes