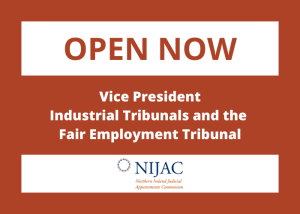 THIS SCHEME IS NOW CLOSED TO APPLICATIONS.
NIJAC is inviting applications for the office of the Vice President of the Industrial Tribunals and the Fair Employment Tribunal (ITFET). It is intended to make one appointment and to maintain a reserve list for 12 months from the anticipated date of appointment (29 September 2022).
The successful applicant will be responsible for supporting the President in the judicial administration of the Industrial Tribunals and the Fair Employment Tribunal in Northern Ireland. They will chair tribunal hearings, support the Employment Judges in their duties and carry out any relevant statutory function of the Industrial Tribunal and the Fair Employment Regulations, subject to the overall guidance and supervision of the President. 
In addition to hearing and determining cases; the Vice President will be the training officer and will have primary responsibility for designing and delivering training and meeting the mentoring needs of employment judges and panel members. The Vice President shall also assist the President generally in carrying out their duties and deputise in their absence.
Eligibility:
To be eligible for appointment as Vice President of the Industrial Tribunals and Fair Employment Tribunal, a person must, by closing date of applications, be either:
a barrister or solicitor of not less than seven years' standing.
Salary/Fee: £134, 717 per annum. This post is pensionable.
Closing date: Monday 20 June 2022 at 12noon.
For further information and to apply online please click here
_________________________________________________________________________
Additional Resources