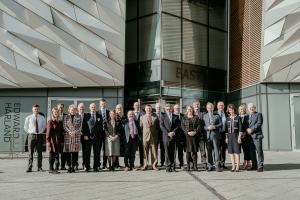 The Northern Ireland Judicial Appointments Commission (NIJAC) were delighted to host the Tri-Partite Conference on Friday 4 March 2022.
NIJAC's Chair, Lady Chief Justice The Right Honourable Dame Siobhan Keegan, warmly welcomed everyone to the Titanic Hotel Belfast which provided a charming venue for the day with representatives from the Judicial Appointments Commission (JAC) for England and Wales and the Judicial Appointments Board for Scotland (JABS) in attendance along with commissioners and staff from NIJAC.
The objective of the event was to share ideas and learning on judicial appointments from different contexts and was structured around various presentations and discussions. This year's conference explored three topics including Consultation in Judicial Appointments, Profiling Judicial Office and Digitalisation.
The last Tri-Partite Conference took place in 2020 and was hosted by our counterparts at JAC with last year's having to be delayed due to the pandemic. Next year, JABS will host the event in Scotland.
Commenting after the event, NIJAC's Chief Executive, Tonya McCormac, said: "This was an excellent event and we in NIJAC were delighted to be able to host in Belfast, the Judicial Appointment bodies for England, Wales and Scotland, as part of our ongoing collaboration allowing us to share learning, benchmark innovative approaches and build stronger relationships and partnerships supporting all our work in making meritorious Judicial Appointments across the UK".
Below are some photos of the event for you to enjoy!