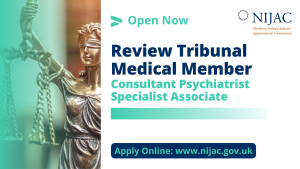 NIJAC welcomes Expressions of Interest from Consultant Psychiatrists and Specialist Associate Psychiatrists for the role of Review Tribunal (Consultant/Specialist Associate) Medical Member.
The purpose of the office is to assist with reviewing cases under the Mental Health (Northern Ireland) Order 1986 and the Mental Capacity Act (NI) 2016.
In cases falling under the Order, the Consultant Psychiatrist or Specialist Associate will conduct a mental state examination of the patient prior to the hearing and provide a preliminary opinion relative to diagnosis which will be shared with the parties prior to the commencement of the hearing.
In cases falling under the Act the Consultant Psychiatrist or Specialist Associate will examine the evidence presented to the Tribunal and provide expert medical advice and guidance to the panel in relation to the authorisation the Deprivation of Liberty (DoL) under review or the application for appointment or removal of a nominated person. An examination of the patient/resident is at the discretion of the Tribunal in every case.
Eligibility:
To be eligible for appointment as a Consultant Psychiatrist/Specialist Associate Medical Member of the Review Tribunal, a person is to, by date of application, be:
A registered medical practitioner with the General Medical Council
Applicants must have held a full-time or part-time appointment as a Consultant Psychiatrist or Specialist Associate.
In addition, applicants must have membership of the Royal College of Psychiatrists at either Member, Fellow or Associate Specialist level.
Applicants should also be participants in a continuing professional development programme for Psychiatrists. 
A licence to practise (as distinct from registration with the GMC) is not a requirement of appointment.
This judicial appointment is to a fee-paid role, with a commitment of 7 sittings annually.
Fee: £416.45 per sitting/training day and £150 per medical examination conducted.
Closing Date:  As NIJAC is seeking to make 10 appointments this recruitment will be ongoing for the next quarter, therefore your Expression of Interest is welcome at any time. Your Expression of Interest will be acknowledged, and assuming your eligibility is confirmed, a suitable interview date will be arranged.
For further information and to complete an Expression of Interest form please visit: Apply online | Northern Ireland Judicial Appointments Commission (nijac.gov.uk)
___________________________________________________________________
Additional Resources
- Watch the following video: Review Tribunal Information Session(external link opens in a new window / tab)
Adeline Frew talks with Mrs Attracta Wilson and Professor Gerry Lynch about the Review Tribunal, the role of Consultant Psychiatrist / Specialist Associate Medical Member and the benefits and rewards of serving as a member of the judiciary.
- Read the Nature of the Role document for further insight into the role.
- Take a look at the Judicial Bios section of our website where there is an opportunity to read different accounts about the day to day realities of serving on the Review Tribunal.
- Find out more About NIJAC or the Review Tribunal(external link opens in a new window / tab)
- Follow us on Twitter(external link opens in a new window / tab) for further updates or connect with us on LinkedIn(external link opens in a new window / tab)