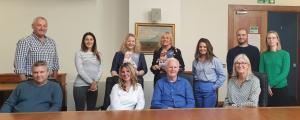 NIJAC are pleased to announce their Charity of the Year: Northern Ireland Children's Hospice
The NI Children's Hospice is a local charity providing specialist respite, symptom management and end of life palliative care to over 370 infants, children and young people living, with life-limiting and life-threatening illnesses both in the family home and in the Children's Hospice in Newtownabbey. The NI Children's Hospice relies heavily on donations in order to support its core services.
Clare McGimpsey, Partnership Programme Manager for NI Children's Hospice, said, 'We are delighted to be working with the team at NIJAC this year.  Corporate support is vital to our success, and it is partnerships like this that enable us to continue to provide specialist palliative care to babies, children and adults. We are looking forward to working on some great activities and campaigns with the team and hope to build a very successful partnership over the next year.'
Tonya McCormac, NIJAC's Chief Executive added, 'We are delighted to be partnering with the NI Children's Hospice as our chosen Charity of the Year. Their work is invaluable and it is a privilege for us to support such a worthy cause in whatever way we can."
NIJAC will be organising different fundraising events during the year to support the work of the Hospice as well as looking forward to providing volunteering opportunities for staff.
More information on the NI Children's Hospice including how to support them can be found online at: www.nihospice.org