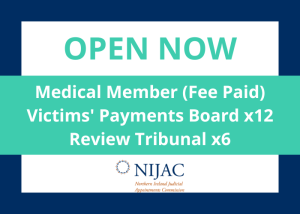 NIJAC is seeking to appoint 12 Medical Members to the Victims' Payment Board and 6 Medical Members to the Review Tribunal for Northern Ireland. A reserve list will be retained for 12 months from 31 July 2023, the anticipated date of the first appointment to accomodate any unforseen vacancies during this period.
Applicants will have the opportunity to apply to one or both judicial offices by submitting one Expression of Interest form and attending one interview in respect of both posts.
The Victims' Payments Board determines applications under the Troubles Permanent Disablement Payment Scheme (also referred to as the Victims' Payments Scheme).
Here, the main function of a medically qualified member is to determine, as a member of a panel, if initial applications are eligible for an award and where appropriate, to consider and determine applications for Review and Appeal.
The Review Tribunal has responsibility for reviewing:
(a)  the cases of patients who are detained or are subject to guardianship under the Mental Health (Northern Ireland) Order 1986 (the Order)
(b)  authorisations of deprivation of liberty (DoL) and applications relating to the appointment or removal of nominated persons under the Mental Capacity (Northern Ireland) Act 2016 (the Act)
Here, the main function of a medically qualified member is to review cases falling under the Act. They will examine the evidence presented to the Tribunal and provide expert medical advice and guidance to the panel in relation to the authorisation of the DoL under review or the application for appointment or removal of a nominated person.
Eligibility:
To be eligible for appointment as a Medical Member of the Victims' Payments Board or the Review Tribunal, a person must be, by date of application:
A Registered medical practitioner with the General Medical Council (GMC)
Fee:
These judicial appointments are to fee paid roles.
Medical Members of the Victims' Payment Board
The fee paid is £172.67 per sessional sitting (half day) or £345.34 per day (two sessions) for the first 40 sessions.  The 41st session onwards until 31st March 2024 is payable at a rate of £207.32 per sessional sitting (half day). Rates are under review.
Medical Members of the Review Tribunal
The fee paid is £202.16 per sessional sitting (half day) or £404.32 per day. Plus a pre-hearing medical examination fee of £150.00 when required.
Closing date:
Thursday 15 June 2023 at 12noon
For further information and to submit your Expression of Interest please visit the Apply Online section of our website.
___________________________________________________________________
Additional Resources
> Information Video
Adeline Frew talks with Dr Ian Ryans about serving as a medical member on both the Victims' Payments Board and the Review Tribunal
Serving as a Medical Member with Dr Ian Ryans
 Dr Ryans is also available to speak with any potential applicants about the work of a medical member. Contact details can be found in the Applicant Information Booklet.
> About the Tribunals
For further information about either Tribunal please visit their websites below:
Victims' Payments Board (victimspaymentsboard.org.uk)
Review Tribunal | Department of Justice (justice-ni.gov.uk)
Follow us on Twitter for further updates or connect with us on LinkedIn