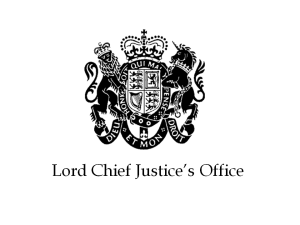 Lord Chief Justice's Office
The Lord Chief Justice of Northern Ireland invites applications for appointments to the following post:
Lord or Lady Justice of Appeal, Court of Appeal of Northern Ireland
Three vacancies will arise in the Court of Appeal during the course of 2017.
Court of Appeal appointments are made by Her Majesty The Queen on the advice of the Prime Minister following consultation with the Lord Chief Justice and the Northern Ireland Judicial Appointments Commission. The Prime Minister has asked the Chief Justice to establish a selection panel to make recommendations for appointments. The selection panel chaired by the Chief Justice has now commenced the appointment process and invites applications.
Full details of the process, including the information pack and application form, are available from the Appointments Team, Office of the Lord Chief Justice, Royal Courts of Justice, Chichester Street, Belfast, BT1 3JF, COAscheme@courtsni.gov.uk or telephone 028 9072 5903.
Applications must be submitted by 12 noon on 22nd August 2016.
All Applications Are Considered Strictly On The Basis of Merit